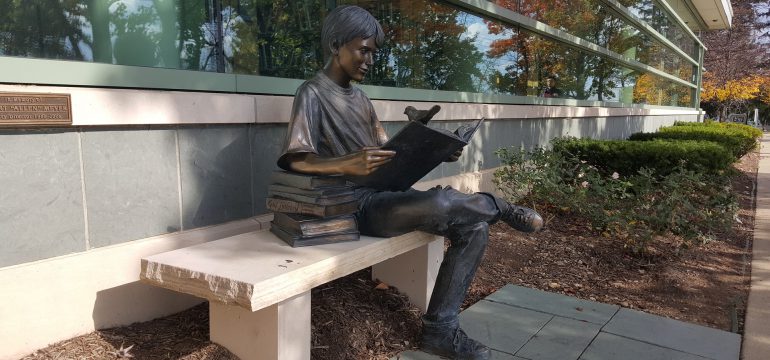 Parents, Grandparents, Aunts and Uncles Want to Know.
What are the best books for teenage boys? What did your son read? This is a question I answer pretty often. Luckily for me, my son is still technically a teenager, and my husband has a long memory. I have live-in consultants to help me write this post.
I read everything I could get my hands on when I was a teen, and my tastes were decidedly masculine.  I can personally vouch for all the titles I recommend.  They're good.  These are the books that enliven conversations and fire the imagination.  Best of all, many of them are free!
Amazon is a Good Starting Point.
Amazon has a list of popular fiction for teens and young adults.  If you're looking for possibilities, this isn't a bad place to start.  That being said, there are some problems here.  Amazon doesn't differentiate between the titles generally preferred by boys and those generally preferred by girls.
On the positive side, Amazon's reviews are very helpful in determining whether you want to read a book or present it to your teen.  Further, Amazon Kindle is remarkably affordable and convenient.  Kindle devices start as low as fifty dollars, and it is free to download the app to a tablet, laptop or desk top computer.  Many Kindle titles are free or very inexpensive, and the convenience is unbeatable.
Teenage Boys Need Great Books
America's boys aren't reading as much as girls are.  (The girls aren't reading enough either.)  Much has been written about how boys are failed by our current education system.  One of the ways we fall short in educating our sons is that we often fail to recognize that their reading preferences are usually different than girls' and women's.  This oversight is easily repaired.  There are oodles of really great books for guys.  (I know this because my menfolk are non-stop readers, and the family book and kindle download bill is outrageous!)  Since early, proficient reading is strongly correlated with academic success, it's important to offer our sons plenty of books they genuinely enjoy.

In many cases I've linked to an author's page rather than merely the particular title, because many of these authors' works are very good and entirely suitable.
This is by no means an exhaustive  list.  There are many, many good books out there.  Amazon's list does a comprehensive job of noting those books which are is currently popular. Many of the books I've listed are less well known.  Please add your own favorites down in the comment section.
If your teen isn't yet an avid reader, take heart.  He is probably just one great book away from becoming one.  There really is no competition for a good book, once a person is hooked on reading.   As I've already noted, reading is strongly correlated to academic success, yet people who read for the joy of it are perhaps the luckiest of all.
All the Best,
Elizabeth