For Your Student this Year?
It depends.  What grade is your student entering?  What are his interests?  What will best fit into your homeschool?
We're going to do an overview of all the grade levels, with a focus on what is generally considered developmentally appropriate and critical in the early grades.  In high school we'll talk a bit about individual interests and the what colleges might hope to find in your student's high school transcripts.
Let's have a look at several different curriculum offerings for each level.
I'll do my best to provide a variety of good curriculum for each level.  I know that some people hope for free curriculum, others are looking for hands on programs, and some people would like instruction to occur on line.  Please understand that I never list curriculum I consider to be mediocre or worse.  (If I have nothing nice to say, I say nothing!) I'll try to find something on each level to suit these varying tastes.  All homeschools are different, each wonderful in their own way.   There is no one size fits all art program for every family – only great options.
Preschool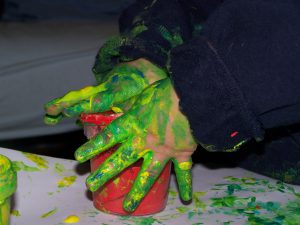 Adorable Art Projects for Preschoolers are easy to find.  Websites and books abound with cute ideas.  These activities are really fun, and I think preschool should be fun.  Many parents with very young children are very eager to start homeschooling.  They scour the internet, looking for curriculum.  That's why I'm starting with preschool, rather than kindergarten.  I know you're looking, and I know you're serious!
If You're Serious About Homeschooling
however, you should probably know what your child should learn about art in preschool.  The best free, authoritative resource for this information is the Preschool Core Knowledge Sequence, which you can download HERE.  There's a lot more information there than you need and it's intended for very serious academics and professionals, but it's FREE!  There are three pages that apply to the goals of a preschool art program.  You may want to read them.   You're serious, and your kid still needs more sleep than you do.  This is your change to get ahead of the game!
I Have Already Gotten Serious,
as have quite a few very capable educators.  If you do most of the activities in Susan Schwake's Art Lab for Little Kids, you'll cover every art activity your preschooler needs to thrive.  Basically, your preschooler needs experience with many different media and techniques.  This well thought out collection of projects will cover all the appropriate activities.  Susan Shwake is an expert, and she really cares.
Susan Schwake teaches an online course called Art Together for parent-child teams.  I encourage you to investigate this option and find out if it's right for you.
Free.  You Said Free!
If you want an online, free resource, consider KinderArt or Jumpstart. Just recognize that it's incumbent on you to choose the appropriate activities and cover the appropriate material.  That's why I suggest homeschooling parents of preschoolers start early reading the Core Knowledge Sequence.  It is not too early to begin being "THE Expert."
Kindergarten Through Fifth Grade
Thank Goodness You Homeschool,
because there's really no need to draw hard and fast lines between what constitutes a kindergarten art program and a preschool or early grade school art program.  Of course a general awareness of what is expected and developmentally reasonable is a good thing.  Kids develop at highly individual rates, and many homeschoolers are educating several children at once.   Susan Schwake's Art Lab for Little Kids is appropriate all the way through first grade, for instance.  I encourage you to consider it for your kindergartner.
Would You Like an Expert
to do the teaching, and maybe all the research as well?  If so, this Home Art Studio on DVD-Rom is for you.  Parents love it.  Children love it.  They say nothing but positive things about Lindsey Volin, the experienced art teacher who created the curriculum, and the projects within.  Because Lindsey has put together eighteen projects that cover the entire scope and sequence for kindergarten.  The research is done, the curriculum is inexpensive and the supplies won't break the bank.  Further, there's a DVD-Rom with eighteen new projects for each year of elementary school.
Free, Online, Expert-Designed Art Program
Yeah, that's right!  Mrs. Brown follows the Massachusetts' public school guidelines for elementary students.  She is an experienced art teacher who holds a master's degree in her craft.  She is completely transparent about the goals and techniques.  Mrs. Brown's plans are very, very easy to follow, and if you use her curriculum you will be getting a real bargain.  She has a beautiful powerpoint presentation to help explain each lesson to the students.  Again, Mrs. Brown's curricula with follow you through the entire elementary grades.  All you will have to buy are very reasonably priced materials.
Behold the Beauty
is a Christian elementary Art curriculum for kindergarten through sixth grade.  It's not easy to find all three books.  Here they are.  This curriculum gets five stars with everyone who's every used it.  It's that good.  There are twelve lessons for each grade level, which incorporate scripture and art techniques.  Connie Meyer is an experienced homeschool mother of five with a bachelor's degree in art.  Her curriculum is easy to use and requires very inexpensive supplies.  There are three books, one for kindergarten and first grade, one for second and third grade, and one for fourth, fifth and sixth grade. Behold the Beauty Art Curriculum books do show up from time to time at Amazon and Christian Book .com, but not reliably.  Hence I have given you the more reliable link to purchase the full set.
Middle School,
or Adolescents are Cool!  I hope you're not believing all that negative hype about how difficult adolescents are, because it just isn't so.  This is a golden time to be a home educator.  Your kid is more capable than ever before, better at analytical thought, and capable of taking on more challenging subject matter.  Even though the last curriculum set I mentioned in the elementary section, Behold the Beauty, goes up through sixth grade, everyone agrees that adolescents aren't elementary students, nor are they high school students.  They rate their own category!
Online Convenience
I am not a Time 4 Learning fan, but many parents love the convenience and low cost.  Time 4 Learning has an art course designed for the late elementary and middle school grades.  In my opinion it is sufficient for one year's instruction only.  As a stop-gap measure or convenience, it's adequate.  As a parent who homeschooled through life-threatening illnesses an serious family crises, I can vouch for the need to find solutions which can get a family through hard times.  This Time 4 Learning Art program is inexpensive and convenient.  It gives students a venue to showcase their work, which I think is a component often missing from homeschooling.  Art students with Time 4 Learning can upload their work into an online gallery where their peers around the world can appreciate it.
Adolescents Crave Independence,
and Artistic Pursuits fosters and encourages your middle school student's increasing ability to work with less parental supervision.  (Yes, I used this program.  Loved it!) Artistic Pursuits in Middle School is an excellent art program, because it's addressed to your student, and covers are appreciation and history as well as technique and multiple media.  Artistic Pursuits has two one-year courses for Middle school students.  Together they give your adolescent a thorough grounding in art history, the elements of art and composition, and media and technique.  My kids loved working independently on their art for two years, but they also loved the year each spent in our homeschool cooperative's art class.
High School, When the Visual Arts Sometimes Take a Back Seat to Other Things
Many high school students simply don't have time to continue taking art every year of high school.  For those who do make time, there are excellent options. Artistic Pursuits continues on for two years in high school.  This is a comprehensive art program that really engages your teen.  It's intended for the student to work independently, and it covers Art History, Technique and many different media.  It is a rare high school student who has time for a full four years of art.  For such students there are many options.  Before going on to discuss more in depth studies for talented teens, there's one more curriculum that merits discussion.
One Reputable Curriculum Can Follow Your Student from Preschool to High School
Atelier Art Homeschool Curriculum is a Cadillac program.  It's amazing.  Levels seven and eight of the Atelier Curriculum will work well for a high school student.  As a bonus, Atelier Curriculum is designed to work for a spectrum of ages at a time.  It means that siblings within four years of age of each other can generally work from the same level of Atelier Art Curriculum at the same time.  I'm going to let the video explain this curriculum.  The young lady does a much better job than I can.
Unit Studies for Serious Art Students
If your high school student is still very excited about art after two years of instruction, perhaps you should consider enrolling him in an adult art class.  This is a great way to introduce your student to the local community college.  There are many other options, of course.  Most homeschool cooperatives have art classes, often taught by very skilled artists.  The beauty of art classes outside the home is that they usually include opportunities for your teen to showcase his work.
Free Art Instruction for High School Students
I didn't find any free art curriculum on the high school level.  I did find some good resources.  Khan Academy has a huge library of art history instruction videos and quizzes.  Gutenberg books has many books on art history and art instruction.  In general, the free art instruction I have found thus far has not been true curricula – just collections of ideas and classes on specific aspects of art.  This doesn't mean the material has no value, but I can not misrepresent these materials as actual high school art curricula.
In Closing,
I really enjoy teaching homeschool art.  This morning I had the privilege of teaching a child how to use a watercolor wash over crayon drawings.  We both had a lot of fun.  I think I may have had more fun than he did!  Sadly, I have no talent and only rudimentary instruction in art.
I have always relied on reputable homeschool curricula, art technique books, homeschool cooperatives and eventually community college art classes.  That's how I survived teaching children who were far more talented in art than I am!
It is my hope that you have benefited from this post.  Homeschool art classes are a part of the "fun stuff" we get to be part of when we homeschool.  Enjoy this time with your kids.  If a math and science nerd like me can get something out of teaching homeschool art, anyone can.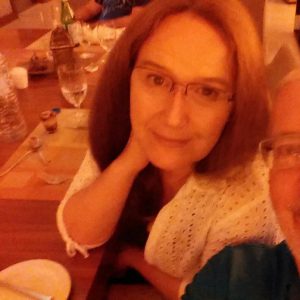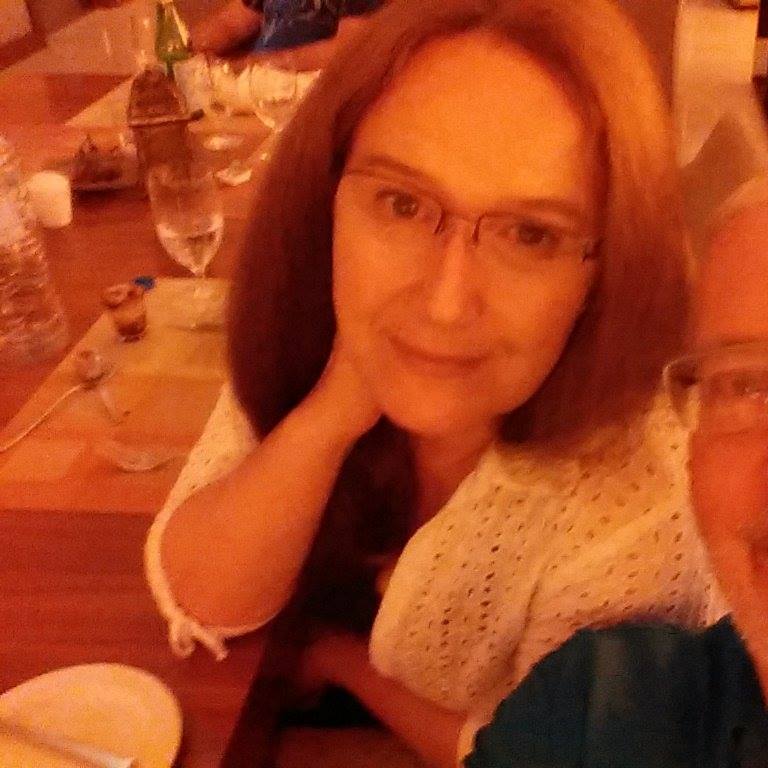 If you find a great resource, please tell me about it.  I'll add it to this post, crediting you of course.  If you have any questions, please drop me a line.  I'd love to hear from you.
All the Best,
Elizabeth